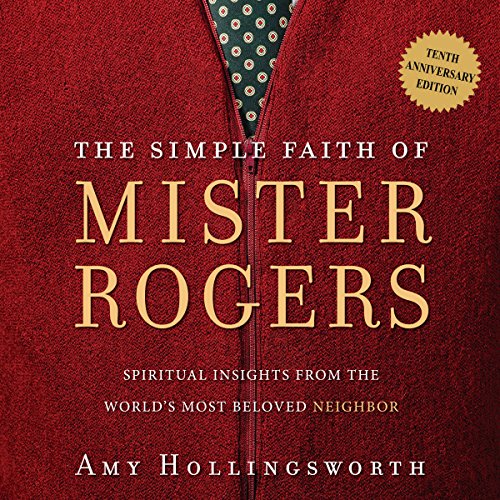 The Simple Faith of Mister Rogers
By: Amy Hollingsworth
Reviewed by: Georgia Rindler
Fred Rogers was known by many as the fellow on the PBS television show who changed his shoes and zipped up his sweater at the beginning of each episode. Children loved him, adults didn't understand him and comics poked fun at him. 
Since his death in 2003 the world is gradually realizing it lost a faith-filled educator who entertained with his calm, slow-paced manner. He was the creator, producer, head writer, and host of Mister Rogers' Neighborhood from 1968-2001. Fred was an American television personality. He was also a musician, puppeteer, producer and a Presbyterian minister. 
The Simple Faith of Mister Rogers is the result of an interview Rogers gave to journalist Amy Hollingsworth in 1994. Hollingsworth was working in television and had a two-year-old son at the time. A friendship grew and the book is a compilation of stories and convictions of a man many have come to respect. 
For eight years Rogers and Hollingsworth shared letters, phone calls and occasional visits. Hollingsworth says the core of their relationship developed through the correspondence. "One of the things I enjoyed most about my friendship with Fred Rogers was the stories he told me from his childhood," she writes.
The story of toast sticks struck this reader. Five-year-old Freddy loved to visit an elderly neighbor woman who often invited him in to share toast sticks. On one occasion she allowed him to make the treats all by himself. Placing bread in the toaster, buttering the slice, adding jam, and cutting the toast into four long sticks was a very grown-up task for a young child. Mama Bell (as she was called) passed away shortly after. She left a legacy for that young boy, nothing tangible but something much more valuable. 
As a child, Fred was overweight, shy, and bullied. He was often taunted by classmates while walking home from school. Those unpleasant experiences may have led him to change what was considered children's programming. "I got into television because I saw people throwing pies in each other's faces, and that's such demeaning behavior. And if there's anything that bothers me, it's one person demeaning another," he expressed. He knew children deserve something better than what was broadcast on television at the time.
Fred Rogers' life story reminds me of a poem by Bessie Anderson Stanley titled Success. It begins with, "He achieved success who has lived well, laughed often, and loved much; who has enjoyed the trust of pure women, the respect of intelligent men and the love of little children." The final lines are," Who has always looked for the best in others and given them the best he had; whose life was an inspiration; whose memory a benediction." Fred Rogers was truly a success.
The Simple Faith of Mister Rogers can be found in the non-fiction section of the library; 248.4 HOL.                                                                                                                   April 2020
I Really Needed This Today
By: Hoda Kotb
Reviewed by: Georgia Rindler
Hoda Kotb is co-host of NBC's fourth-hour morning broadcast Today with Hoda and Jenna. On New Year's Eve 2013 she posted an inspirational quote on Instagram. Nearly 2,900 people "liked" the quote. Kotb was just trying to encourage herself with C.S. Lewis's "There are far, far better things ahead than any we leave behind." 
For the next month, she continued to post and was surprised to find more and more people actively engaging. She has always loved a meaningful quote. Many others do too as sayings are read on T-shirts, coffee mugs, calendars, and posters.
Kotb discovered the quotes were providing inspiration, but were also offering comfort and connection. She observed that the same quote could evoke totally different reactions, yet were what an individual needed to get through the day. Many comments read, "I really needed this today," which influenced the book's title.  
I noticed that the 365 quotes are dated, which made me smile. I love sequence. Some days made me laugh. June begins with "After all the eating I've done this winter, I'm happy to report my flip-flops still fit." August 4 brings the wisdom of the internet with, "I googled my symptoms. Turns out I just needed to go to the beach."
Those such as "My ability to remember song lyrics from the '80s far exceeds my ability to remember why I walked into the kitchen," and "Smiling does not necessarily mean you're happy. Sometimes it just means you're strong," could apply to me.
Some are motivating; "Don't look back. You're not going that way," and "Be the reason someone believes in the goodness of people." Others are more stirring; "God does not always take us where we want to go, but He always leads us where we need to be," and "When it is all finished, you will discover it was never random."
"Simply let go of the illusion that it could have been any different," seemed to offer support. 
This one struck a chord with me as I've been on both ends of the dialogue: "People will never remember what you said or what you did, but they'll never forget how you made them feel."
And there are those encouraging quotes; "The thing about new beginnings is that they require something else to end," and "Sunsets are proof, endings can be beautiful too!"
I found the quote for March 1 "Sometimes you just have to be done. Not mad, not upset. Just done," reassuring. 
Each page brings another quote that could prove to recharge one's battery. I was tickled when I found one of my favorites on August 23. It's from Pooh's Grand Adventure by A.A. Milne. "You are braver than you believe, stronger than you seem, and smarter than you think." 
Each sunrise brings another day with a new set of challenges and blessings. I Really Needed This Today could help navigate those 24 hours. The book can be found in the non-fiction section of the library; 170.44 KOT.
March 2020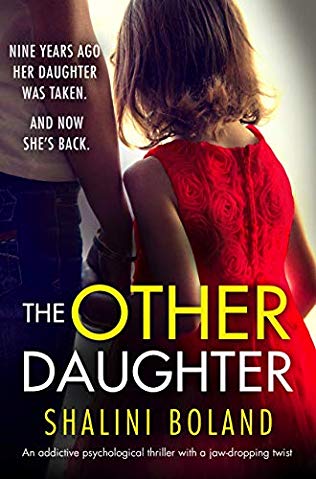 The Other Daughter
By: Shalini Boland
Reviewed by: Georgia Rindler
The Other Daughter is a psychological thriller. The book begins with a toddler being kidnapped from a busy London shopping center. The first chapter is compelling as the reader wonders why Catriona is so upset, has mud under her fingernails, and impulsively abducts a child. No explanation is given.
Nine years later Rachel Farnborough sees the face of her missing child, Holly. 
Shaun and Kate Morris recently moved from London to the small town of Wareham with their three children. Their oldest daughter Bella bears a striking resemblance to Holly. 
Rachel has been living a quiet life in Wareham, keeping her devastating nightmare to herself. Her oldest child was never found and reliving the story is too painful. After divorcing Holly's father, Rachel needed to make a new life for herself and her other daughter, Jess. With boyfriend Matt and their son Charlie, Rachel and Jess are a happy family. But she still blames herself for what happened to her other daughter. 
Chapters alternate between THEN and NOW and the reader becomes acquainted with both Catriona and Rachel. Little by little the author reveals what happened "then". The past is Catriona's narrative of taking Holly to replace Grace. 
But the majority of the novel is Rachel's story. Convinced that the Morrises are responsible for the kidnapping, the present is Rachel obsessing that Bella is Holly. 
What transcribes is a twisted tale of haunting consequences. A tragedy is certainly capable of taking over one's mind. But the challenge is discovering who is guilty and who are the innocent victims in these women's accounts. 
The ending is a bit of a surprise. I had several guesses on the outcome, but not quite what the author envisioned. Set in England, the terminology is a bit different from what I am accustomed, but easy to follow.
The Other Daughter is an easy, short read. It can be found in the fiction section of the library: FIC BOL.
February 2020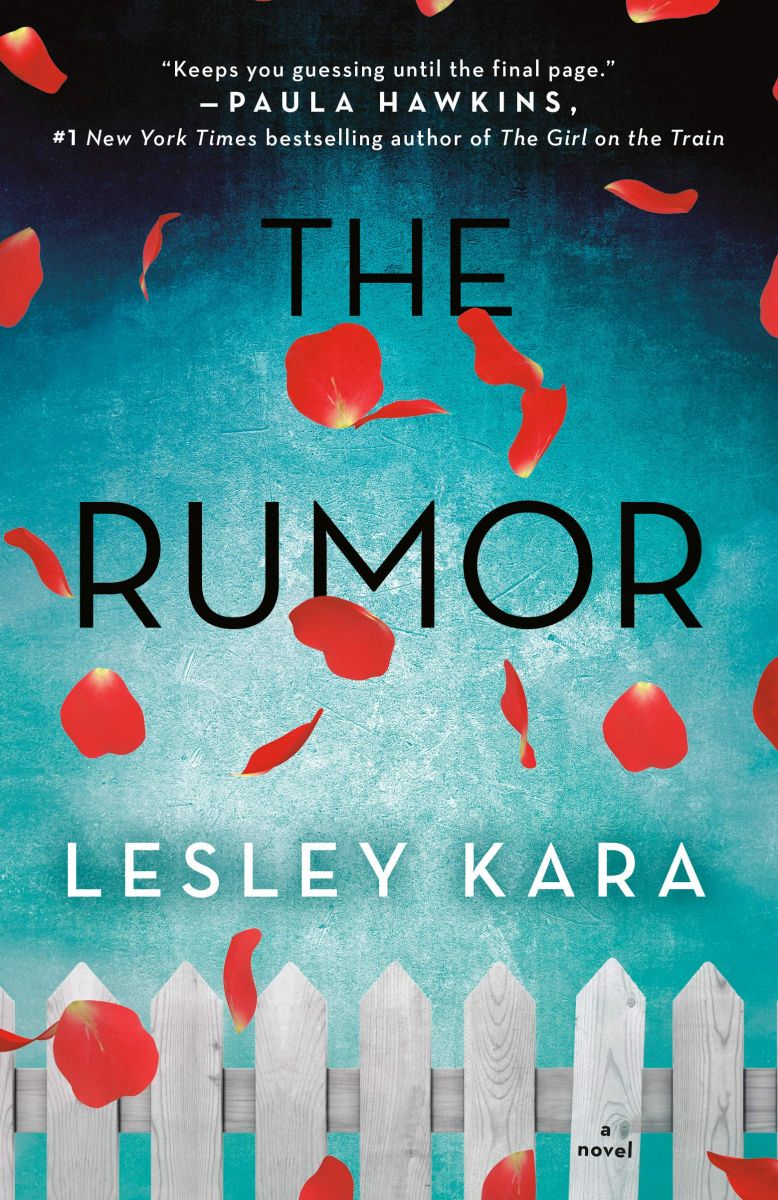 The Rumor
By: Lesley Kara
Reviewed by: Georgia Rindler
Sally McGowan stabbed five-year old Robbie Harris to death in 1969. Sally was ten-years old at the time. Convicted of manslaughter, she was sent to a juvenile detention center and released in 1981. 
Almost 50 years later, a rumor is spreading that the cold-blooded child murderer is living in the small seaside town of Flinstead. Joanna Critchley hears it in a hushed whisper from one of the other mothers while waiting to pick up her child from school. She dismissed it as idle gossip, even defending the condemned killer stating maybe Sally deserves a second chance. But Jo admits the story is intriguing and does a little private snooping when she gets home.  
Desperately trying to fit in with a new circle of women, Jo repeats what she heard at the school gate the next night at book club. This gets everyone's attention as Liz, Maddie, Barbara, Karen, Jenny, and the other women are all eager to get the latest 411 on the story. Suddenly Jo is included in additional social events and gatherings. 
The gossip takes off and fingers are pointed at Sonia Martins, the proprietor of Stones and Crones, a New Age store in town. Information is spreading like wildfire.
Maddie's British friend from Pilates class used to be a probation officer and said in the United Kingdom people like Sally McGowan are given witness protection. So Sally was most likely given help to relocate after her release. People who take on a new identity usually set up their own business. Maddie has since been doing an online search and discovered Sally McGowan is in a small seaside town and works in a store. Plus, Maddie's sister Louise works in the boutique next to Stones and Crones and said Sonia turns down all invitations to join the local business group and does not participate in any of the street fairs. Louise also insists Sonia once told her she was from Dearborn, Michigan, where little Robbie was killed. But recently Sonia retracted that statement and said she used in live in Deer Creek, Arizona. And both women have the same initials; S.G. With all this evidence, many of the townspeople are convinced Sonia is indeed Sally McGowan.  
Jo moved back to her hometown to get away from the city and be close to her mother. As a single parent of a young son, help with childcare would be beneficial. Jo was also hoping Alfie would have a better chance at making friends in the small community. But she had forgotten there can be a downside to such fellowship and feels guilty for passing on hearsay. When threats are made over a Twitter account, Jo fears for her safety and that of her son. 
Lesley Kara's debut novel is a thriller which I found hard to put down. I couldn't wait to discover if the expanding rumor had any truth to it and who was guilty of the menacing acts. The ending was not what I expected. I would like to reread the book to see if there were clues along the way that I missed. I look forward to reading other books by this author. 
The Rumor can be found in the fiction section of the library; FIC KAR.
January 2020